The fusion festival in Germany will be held in 2023. The event promises to be a unique cultural and musical experience for visitors.
Anticipation is building for the highly anticipated fusion festival, set to take place in Germany in 2023. The festival is known for its eclectic mix of music, arts, and culture, drawing visitors worldwide to experience its vibrant atmosphere.
Unlike any other European festival, fusion is a temporary community that explores the junction of contemporary and traditional art forms, ranging from dance to music, installation art to theatre. The event is hosted on a former military airfield and invites visitors to participate in a five-day journey emphasizing personal enjoyment, artistic expression, and community spirit. Fusion is a celebration of freedom, acceptance, and artistic boundary-pushing that advocates for societal change.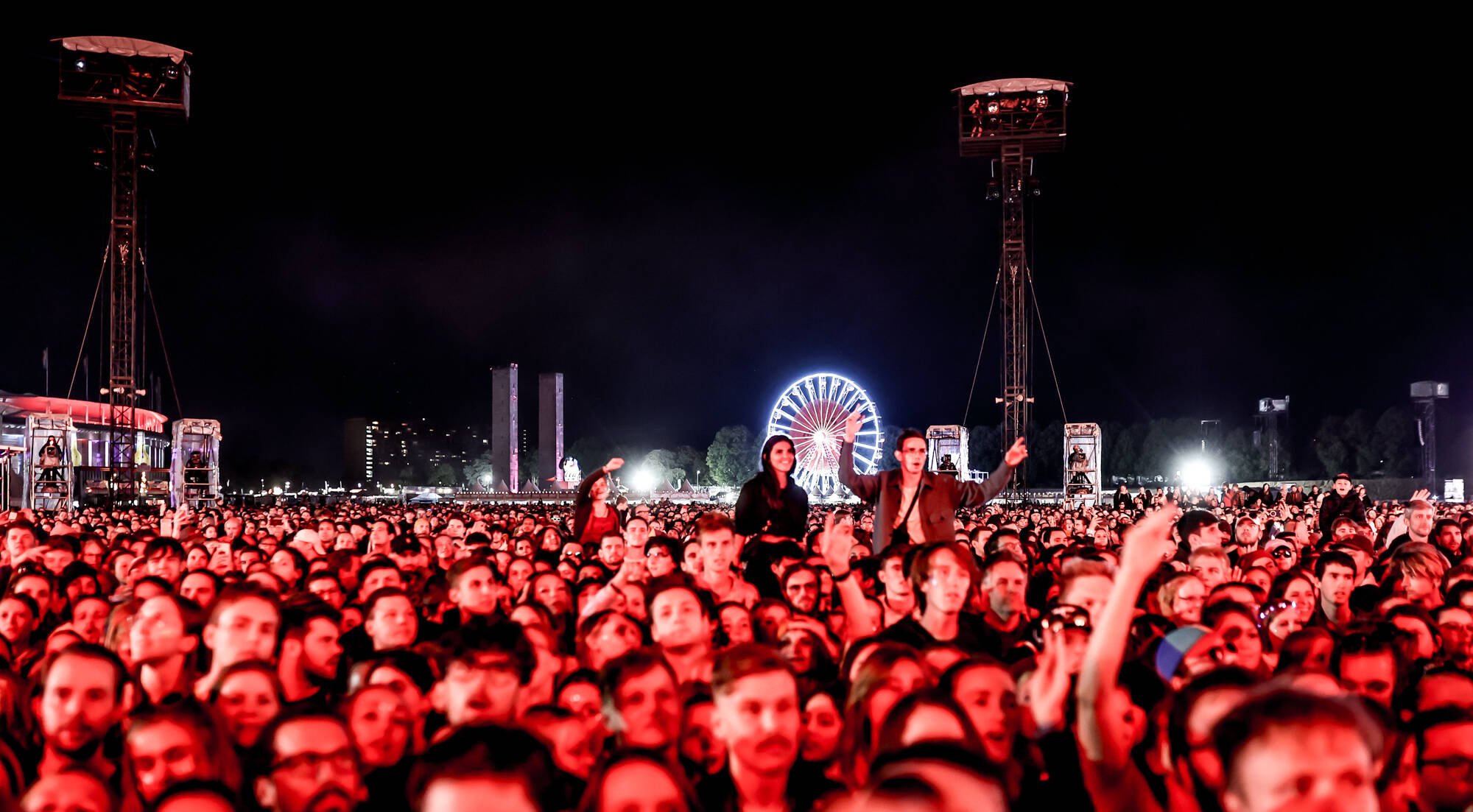 Credit: www.exberliner.com
Music Lineup At Fusion Festival Germany 2023
Fusion Festival Germany 2023 promises to be the ultimate musical melting pot, bringing together an array of diverse genres and talents from across the globe. The music lineup alone will be enough to keep festival-goers entertained and dancing for days on end.
Diverse Range Of Musical Genres
One of the things that sets fusion festivals apart from other music festivals is its eclectic range of musical genres. From electronic to reggae, rock to jazz, there is something for everyone. Whether you are a fan of global sounds or more traditional beats, you are sure to find something that appeals to you.
Some of the musical genres you can expect to experience include:
House
Techno
World music
Reggae
Hip hop
Jazz
Rock
Pop
Headlining Acts And Emerging Artists
Fusion Festival Germany 2023 will play host to a lineup of both established headliners and emerging talents. Previous festivals have seen the likes of Moderat, four tet, apparat, and richie hawtin light up the stage.
In addition, there will be a selection of up-and-coming musicians, artists, and DJs from around the world, showcasing their talents and entertaining the crowds with their unique sounds. Expect to see a mix of established names alongside new, exciting talent.
Inclusion Of Local And International Talents
Fusion Festival Germany 2023 will bring together a diverse line-up of local and international stars. This inclusion of both local and international artists serves to create a shared musical experience, bridging cultures and inspiring creativity.
The festival prides itself on its ability to showcase a variety of sounds and talent, enabling music lovers to experience the music of artists from all corners of the world. So, whether you are a local or an international visitor, you can expect to enjoy a truly global musical experience.
With such a varied range of musical genres, headlining acts, emerging artists, and local and international talent, fusion festival Germany 2023 is set to be a truly unforgettable experience. Don't miss out on this ultimate musical melting pot. Get your tickets today!
Stages And Venues At Fusion Festival Germany 2023
Overview Of The Festival'S Layout
Fusion Festival Germany 2023 is an eclectic music festival held annually at the breathtaking Larz airfield in mecklenburg-vorpommern. The festival is known for bringing together a diverse lineup of international artists, from electronic to hip-hop. The festival boasts of a sprawling green space of about 70 hectares with different stages, art installations, circus performances, and more.
Detailed Description Of Each Stage And Its Musical Offerings
There are various stages at fusion festival Germany 2023, each offering a unique experience for festival-goers. Here is a brief description of each stage and its musical offerings:
The turmbühne stage: A platform that provides a stunning panorama view, and it's the perfect spot to catch sunsets. It features live music, including experimental and rock performances.
The 3000grad stage: This stage has a unique setting with a seesaw, and it's located beneath some trees. It features upbeat electronic dance music, including techno, house, and disco.
The bachstelzen stage: This massive stage has an exclusive setup with architecture and provides a perfect location for dance music. It features a range of electronic styles, including minimal, techno, and house.
The sonnendeck stage: Located in the central zone of the festival's grounds, it provides a stunning view from the top. It features a diverse lineup of electronic and hip-hop artists, including jazz, funk, and soul music styles.
Special Features Of The Festival Grounds
Apart from the various stages, fusion festival Germany 2023 has several unique features that make it a remarkable celebration to attend. Here are some of them:
Art installations: Throughout the festival's site, there are various art installations ranging from colorful graffiti to interactive sculptures.
The forest: Next to the lake, there is a dense forest where you can relax in the shade or take part in some workshops and performances.
Badesee: A massive lake that provides a beautiful backdrop to the festival, it has a variety of water activities, including swimming and surfing.
Sports and circus activities: Apart from music and art, attendees can engage in various activities such as yoga, acrobatics, and juggling.
Fusion Festival Germany 2023 is one of the essential events to put on your calendar for the ultimate musical experience. Get lost in the music, engage in activities, meet new people, and enjoy the different stages with diverse music styles.
Art Installations And Cultural Performances At Fusion Festival Germany 2023
Fusion Festival Germany 2023: the ultimate musical melting pot is set to showcase a perfect blend of art, music, and culture. The event is anticipated to host local and international artists, performers, and art installations, that truly embrace the essence of fusion.
Integration Of Art And Music
Art and music are two forms of expression that beautifully complement each other. Fusion Festival Germany 2023 combines these two art forms to create a unique and mesmerizing experience for attendees.
Some of the key points to look forward to include:
Merging of beats and brush strokes to create truly immersive art and music installations
Art installations that are set up as accompaniments to musical performances, which include live painting and installations which will be available for purchase
Music and dance performances on art installations, blend both art and culture.
Showcase Of Local And International Art Installations
Art installations will be a focal point at the fusion festival Germany 2023, with numerous local and international artists showcasing their works.
Some of the key points include:
Collaborations between local and international artists, which embrace the festival's cultural melting pot theme
Installations that are interactive and invite attendees to explore and engage
Diversity of installations, ranging from traditional art to modern and thought-provoking pieces that add value to the experience
Traditional And Contemporary Cultural Performances
Fusion Festival Germany 2023 is set to celebrate cultural diversity through performances by traditional and contemporary artists.
Some of the key points to look forward to include:
Musical and dance performances from various cultural backgrounds that showcase their heritage
A rich display of local and global talent, including performers who are rising stars in the music and dance industries.
Performances that connect people through their shared love of music, whilst celebrating their unique cultural differences.
The fusion festival Germany 2023 promises to be a harmonious celebration of art, music, and culture. From the integration of art and music to the showcase of local and international art installations to the traditional and contemporary cultural performances, it is an event not to be missed.
Be prepared to immerse yourself in this ultimate musical melting pot.
Food And Drink Options At Fusion Festival Germany 2023
Variety Of Cuisine From Around The World
Get ready to take your taste buds on a journey around the world at fusion festival Germany 2023! With an extensive range of culinary experiences available, this event has something for everyone. Here are some key points you should know about the food options at the festival:
There will be a variety of cuisine available from all corners of the globe, including Japanese, Mexican, Italian, Indian, Korean, and more.
Each vendor is handpicked by the festival organizers to ensure the highest quality of food and a range of options to suit all taste buds.
You'll be able to enjoy street food, snacks, and full meals, so you never have to worry about being hungry.
This year, the festival organizers are going beyond the usual festival food with some exciting culinary collaborations with local chefs.
Inclusion Of Vegetarian And Vegan Options
Fusion Festival Germany 2023 is not just for meat lovers! There will be a wide variety of vegetarian and vegan options available, making it a great event for those with dietary requirements. Here's what you need to know:
Festival vendors will be providing delicious vegetarian and vegan food options, so you won't have to miss out on the fun.
You'll find a range of options to suit different dietary requirements, including gluten-free and dairy-free options.
The festival organizers are committed to promoting sustainable and ethical food choices, so you can feel good about what you're eating.
Culinary Collaborations With Local Chefs
Fusion Festival Germany 2023 is taking things to the next level with exciting collaborations between festival vendors and local chefs. Here's what's in store:
You'll get the chance to taste unique dishes created by local chefs, who are passionate about showcasing their culinary skills to the festival-goers.
These collaborations provide festival attendees with a chance to try something new and exciting while supporting the local food scene.
The festival organizers promise a jaw-dropping culinary experience with some surprises that will knock your socks off.
Get ready for an unforgettable gastronomic adventure at the fusion festival Germany 2023. With an array of delicious global cuisine, including vegetarian and vegan options, plus culinary collaborations, there is something for everyone to enjoy at this ultimate musical melting pot.
Sustainability Efforts At Fusion Festival Germany 2023
At the fusion festival Germany 2023, attendees will enjoy an incredible experience of music and culture, but not at the expense of the environment. The festival's organizers have taken bold steps to ensure that the event is environmentally sustainable. We will highlight some of the sustainability initiatives put in place.
Eco-Friendly Initiatives To Reduce The Festival'S Carbon Footprint
The fusion festival Germany 2023's organizers are focused on adopting eco-friendly practices to make the event leave a minimal carbon footprint. Here are some of the eco-friendly initiatives:
Use of solar power: The festival's power supply will come from solar panels, reducing reliance on non-renewable energy sources.
Recycling stations: Recycling bins will be stationed throughout the festival grounds, where attendees can properly dispose of waste.
Biodegradable products: The use of biodegradable products such as plates, cups, and utensils will reduce the amount of non-biodegradable materials on the ground.
Reduced water usage: The organizers have installed water-efficient toilets and showers to minimize water wastage.
Partnerships With Environmental Organizations
The fusion festival Germany 2023 has partnered with various environmental organizations to ensure the sustainability initiatives are a success. Here are some of the partnerships:
Patagonia: Patagonia, an environmental activist organization, will work closely with the festival to promote eco-friendly practices and raise awareness among attendees.
Climate-neutral group: The climate-neutral group is an environmental consultancy agency that is working with the festival organizers to offset carbon emissions and ensure that the festival is climate neutral.
Involvement Of Attendees In Sustainable Practices
The fusion festival Germany 2023's organizers are calling upon attendees to participate actively in sustainable practices. Here are some of the ways attendees can get involved:
Carry reusable water bottles: Attendees are encouraged to carry their reusable water bottles to reduce the consumption of bottled water.
Use public transport: Using public transport or carpooling to the festival will help reduce carbon emissions.
Proper waste disposal: Attendees are urged to use recycling bins and compost pits to dispose of waste properly.
Volunteer: Attendees can volunteer in waste management practices and assist in renewable energy implementation.
The fusion festival Germany 2023 is taking bold steps toward environmental sustainability, and the initiatives highlighted will significantly impact the event's ecological footprint. Partnering with environmental organizations and involving attendees in eco-friendly practices will ensure that the festival is a celebration of music and culture while preserving the environment.
Frequently Asked Questions For Fusion Festival In The Germany 2023
What Is Fusion Festival?
Fusion Festival is an annual five-day music and arts festival held in lärz, Germany. It features a diverse range of electronic, reggae, and world music, as well as interactive art installations, theater, and workshops.
When And Where Will The Next Fusion Festival Take Place?
The next fusion festival will take place in 2023, from June 28th to July 2nd, at lärz Airfield in Mecklenburg-vorpommern, Germany.
How Can I Purchase Tickets For the Fusion Festival?
Tickets for the fusion festival are sold through an online lottery system. Registration for the lottery typically opens in January or February. Only those selected through the lottery are able to purchase tickets.
What Is The Capacity Of Fusion Festival?
Fusion Festival has a maximum capacity of 75,000 attendees. However, the festival organizers limit ticket sales to create a more intimate and sustainable event.
Are Children Allowed At Fusion Festival?
Children under the age of 18 are not permitted at fusion festivals without a legal guardian. The festival provides a family camping area for those with children, but the overall atmosphere is not necessarily family-oriented.
Conclusion
The fusion festival in Germany in 2023 promises to be an unforgettable experience for all music lovers. From incredible lineups to incredible food offerings, attendees will be spoilt for choice. This festival is a celebration of diverse cultures and music, and attendees will feel a sense of belonging while immersing themselves in the vibrant ambiance.
The fusion of musical styles and cultures is a unique aspect of the festival that sets it apart from others. And with the added benefits of the festival being eco-friendly and community-driven, it truly is an event that aligns with the values of the 21st century.
Attendees can expect to leave with an appreciation for different cultures, a renewed sense of community, and unforgettable memories. The wait for the fusion festival in Germany in 2023 is long, but the event will be well worth it. We'll see you at the festival!